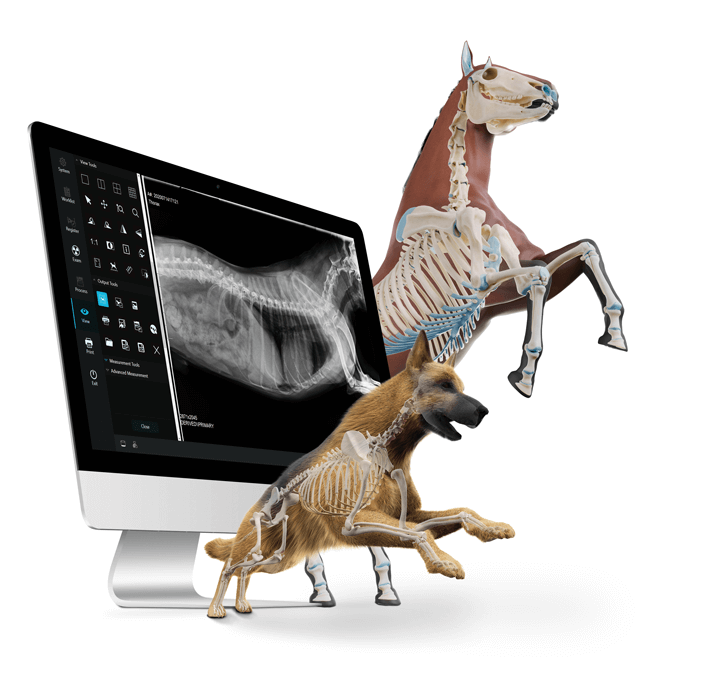 ADVANCE INTO DIGITAL PRODUCTIVITY
Upgrade Your Productivity With DR
With new digital veterinary X-ray technology from 1st Source, you can perform more high quality exams, faster than ever before. The combination of our new FX Series DR panels with IQ View veterinary software and our ultra-portable X-ray head enables a new era in digital radiography for imaging.
Direct view on cell phones with no workstation
Desktop, Laptop and Tablet applications
All day imaging on a single battery charge
Easy workflow with DICOM integration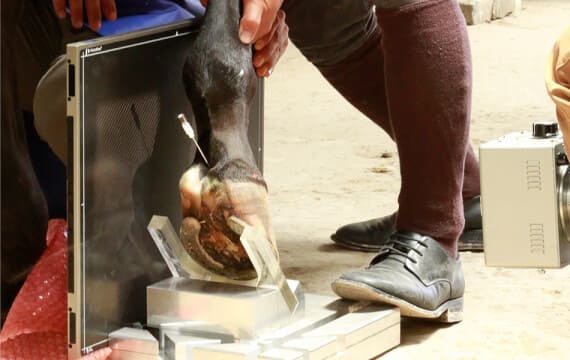 Whether you need to retrofit your existing X-ray system for DR or have the need for a complete X-ray system for your practice, 1st Source has solutions for your veterinary practice.
Veterinary Imaging Software
IQView veterinary software enables the productivity of DR. The user-friendly interface combines with advanced image processing to quickly yield superior images. Available for use on desktops, laptops and tablets.
For large and small animals
Patient positioning guides
Animal specific protocols
Measurement tools
DICOM integration
FX Series DR panels can be used in a variety of applications and environments and enable direct review of images on a cell phone with no workstation. Their robust design enables detailed imaging even in challenging environments.
10″ x 12″, 14″x17″, 17″ x 17″ sizes
Lightweight housing
IP X4 liquid ingress protection
Wireless
Whether in your practice's exam room or in an equine stable, FX Series panels are designed to optimize your Veterinary DR performance all day, every day.
Lightweight, but robust enough for remote imaging
Image in stables all day with 3 included batteries
Protect data by storing up to 200 images on the panel
OLED window clearly displays critical panel status
FX Series DR panels utilize strong, resilient carbon fiber to yield panels that are much lighter in weight than traditional film cassettes, yet have a weight capacity of 300+ pounds.
IP X4 compliant construction makes FX Series DR panels water resistant. So, they can tolerate splashes and disinfectant routines and remain fully operational.
Combine our new IQ Flex 1.6kW X-ray head with an FX Series DR panel and you have an excellent solution for equine X-ray imaging performed onsite in stables.
Ultra-portable battery powered X-ray head
Image all day with 3 included batteries
Robust carbon fiber panel design
Direct image review on cell phone with no workstation
Veterinary X-ray Imaging Software
With IQ View veterinary X-ray software, productive imaging is just a click away. The intuitive user interface is easy to learn and easy to use. Patient positioning guides and animal specific protocols make imaging simple and quick. Calibrated for use with FX Series DR panels to give you excellent image quality with lower dose for confident results.
Here are a few snapshots of both computer and tablet versions to give you quick insight into the power and simplicity of IQ View software.
Powerful Portable Imaging
The  IQ Flex 1.6kW X-ray head* is a lightweight, battery powered solution that enables imaging flexibility in challenging environments. Carry the unit by the handle, or attach it to a tripod for positioning. Paired with an FX Series DR panel, this efficient system produces high resolution images for rapid diagnosis.
*Work-in-progress. Patent Pending.
With the optional remote kit, you can safely transport your FX Series DR panel, IQ Flex 1.6kW X-ray head and IQ View software to stables or other remote locations when you need to image large animals onsite.
Digital. Versatile. Portable.
The result of careful analysis and user-focused engineering, the IQ Flex M X-ray is packed with robust and versatile capabilities.
If you need X-ray for your office, IQ Flex M can be used with an X-ray table to accommodate all your imaging needs. If you need X-ray on location, you can load the IQ Flex M into a van for transportation and remove the X-ray head to image large animals.
The IQ Flex M with an FX Series DR panel is a winning combination for veterinarian imaging of small or large animals.
Combining a veterinary X-ray/exam table with the IQ Flex M portable X-ray gives your office comprehensive, affordable digital imaging capabilities.
Whatever your needs, 1st Source can create a solution to help you meet the financial and medical demands of both large and small veterinary practices
If you'd like to learn even more about IQ Vet digital veterinary X-ray, download a PDF of the brochure by filling out the info below.